Delight in the thrill of Vancouver's Cliffwalk at Capilano Suspension Bridge Park. The winding path of cantilevered bridges and platforms juts from a granite cliff, revealing a thrilling view of the Capilano River and lush canyon below.
In celebration of our 2017 calendar, Anywhere Anytime Journeys has created the "12 Months of Travel" to accompany the calendar's breath-taking photos.
2017 proceeds with …
Vancouver, British Columbia, is known as Canada's emerald jewel for its lush rain forests. On a clear day, from downtown you can see the Strait of Georgia's blue-green waters, glacial fjords, islands, and mountains with snow caps and dense forests.
The city is home to people from all over the world and has continued to draw many immigrants from China, other parts of Asia and around the world.
Vancouver is relaxed and outdoorsy, yet cosmopolitan. It's also sports-minded, and its hockey fans cheer hard for their NHL Canucks. The city also boasts high-fashion boutiques, a vibrant arts scene and a fondness for health-conscious eating. The winter weather of gray skies and drizzle only emphasizes Vancouver's attractions at other times of the year.
NEIGHBORHOODS & DISTRICTS
Chinatown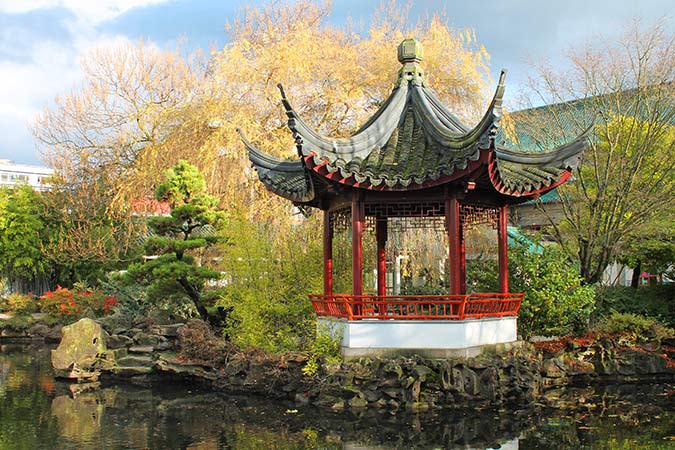 Vancouver's historic Chinatown, though no longer a thriving residential area, retains a century-old authenticity and an age-old business savvy. Walking along Pender and Keefer streets, you'll see where locals shop for fish, meat, produce and traditional herbal medicines. It's also a good place for souvenir shopping.
Commercial Drive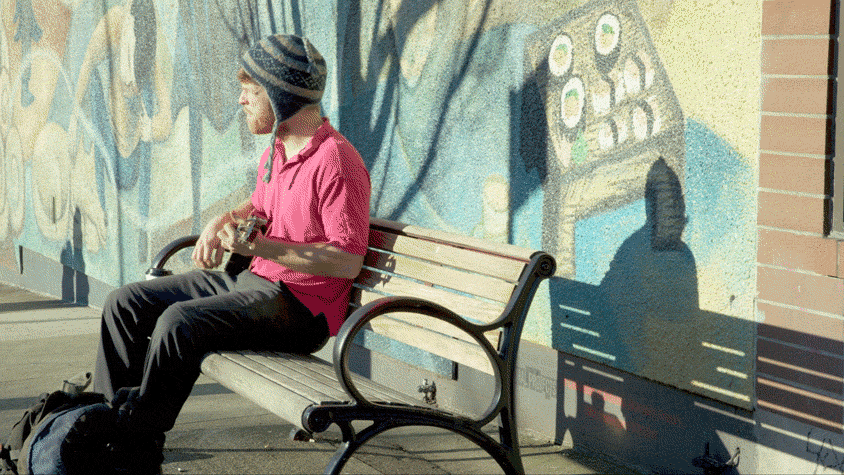 This is Vancouver's bohemian district, the flip side of trendy Robson Street. Home to authentic Italian espresso bars, ethnic restaurants and shops harking back to the hippie and punk eras, "The Drive" offers a lively alternative scene. Weekends are best for people-watching and catching live music. Take the SkyTrain from downtown Vancouver to Broadway Station and then walk north along Commercial Drive.
Gastown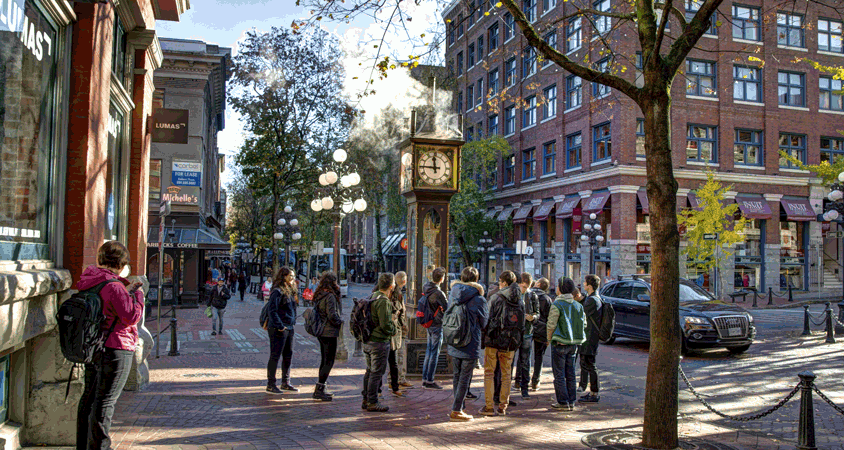 This is where Vancouver was born in the 1860s and where a 1970s renovation converted three blocks of Victorian buildings into restaurants, boutiques and galleries. Today it's enjoying another revival with the addition of chic clothing stores, upscale galleries and a surge in heritage renovations, while retaining a touristy ambience. Among the attractions are the corner steam clock (for the best show, see it when the hour strikes) and the statue of Gassy Jack, the area's forefather, at the corner of Water and Abbott streets.
Granville Street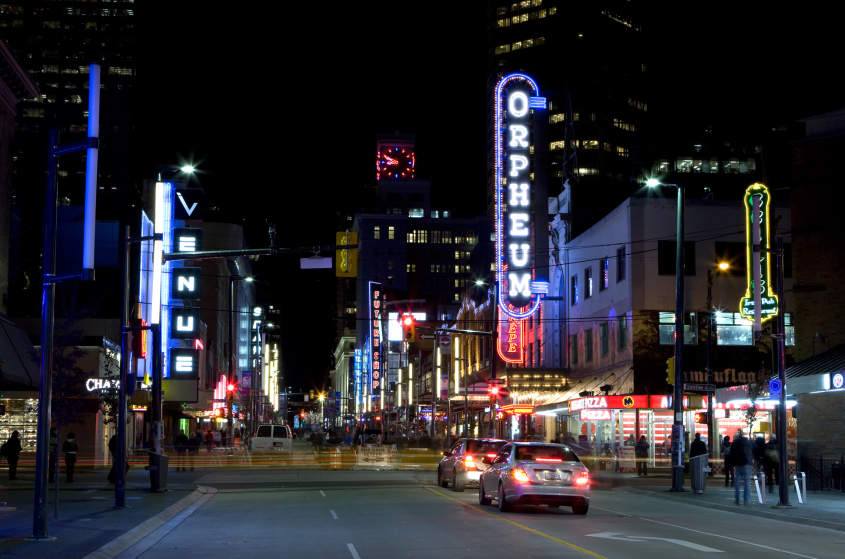 This Vancouver neighborhood has become the city's official downtown club district. A dizzying array of local watering holes, posh lounges and uberhip nightclubs can be found along Granville Street and many smaller intersecting streets. Visitors looking to wet their whistles will want to start at Granville and Robson streets and work their way south toward Pacific. The area is, in parts, a popular destination for homeless and transient populations, so it's advisable to be a little more security-minded late at night.
Kitsilano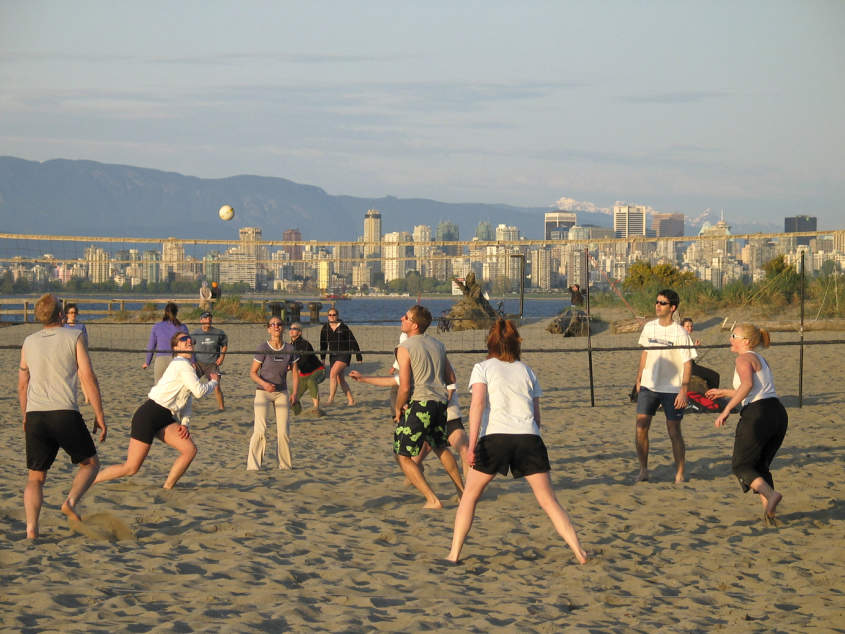 This neighborhood, now popular with young urban families and professionals, was once known as Vancouver's answer to San Francisco's famous Haight-Ashbury neighborhood. Along with Commercial Drive on Vancouver's East Side, Kitsilano is another of the city's hubs of artistic production. Greenpeace founded its first office there, and the neighborhood is popular with celebrities who call Vancouver home as well. The neighborhood has two distinct commercial districts—the first is along West Fourth Street (between Burrard and Balsam) and the second is along West Broadway between Larch and Blenheim Streets—and is home to the much-loved Kitsilano saltwater pool.
South Main Street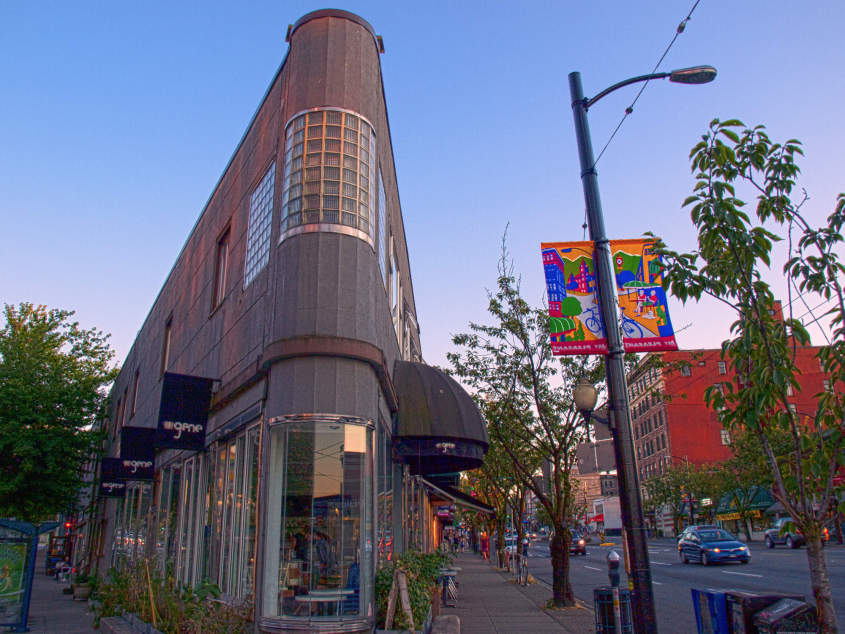 This hipster haven is quickly becoming a popular residential and retail destination, thanks in large part to the artists and younger entrepreneurs who have made the Mount Pleasant neighborhood home to a barrage of antique and thrift shops, handmade clothing and accessory boutiques, funky restaurants and eclectic coffee shops. The Main Street bus from downtown will take you to Main and Broadway, but you'll want to head a little farther south to find the best shopping (between Broadway and 28th Avenue). If you continue heading south, you'll ultimately wind up in the Punjabi Market, where you'll find some of the city's best Indian curry and imported silk (at reasonable prices).
The North Shore
Home to both West and North Vancouver, this area sits just north of Vancouver across the Burrard Inlet. The North Shore can be accessed via the Lions Gate Bridge, Second Narrows Bridge or by SeaBus. West Vancouver (not to be confused with the West End neighborhood) is quite posh and home to a number of large estates and mansions in addition to upscale boutiques and restaurants. North Vancouver covers a much larger patch from the Capilano Suspension Bridge in the west to Deep Cove in the east, and is home to some of Vancouver's favorite outdoor destinations. Lonsdale is a popular shopping destination and home to Vancouver's largest Iranian immigrant community, making the area a cultural and culinary gem.
West End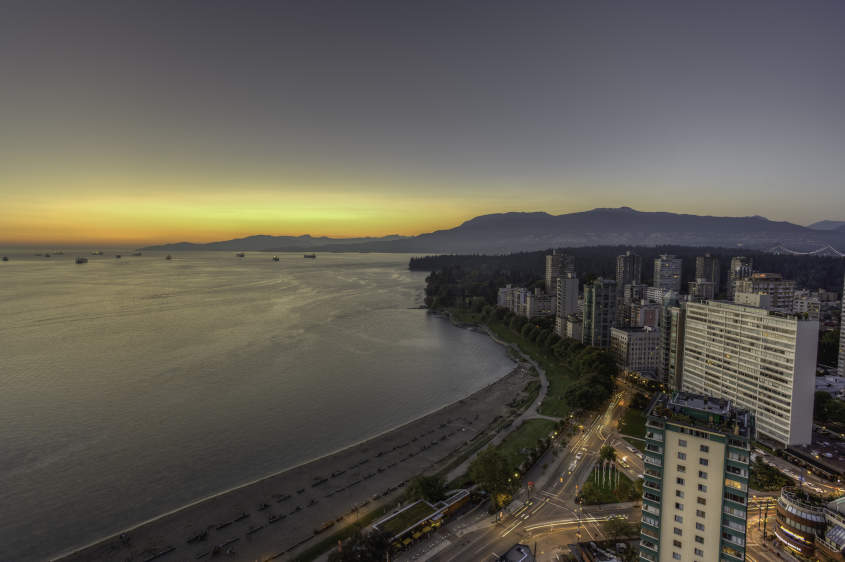 The high-rise apartment buildings of the West End are home to thousands of Vancouverites who love the neighborhood's amenities: English Bay's beaches, Stanley Park, and the trendy stores and eateries of Denman, Robson and Davie streets. Denman, considered the heart of the West End, is lined with good restaurants and takeouts serving various ethnic cuisines. Dotted among the West End's walkable interior streets are ivy-clad, turn-of-the-century houses built by wealthy pioneers.
Yaletown
A frenzy of New York-style warehouse conversions and a boom in high-rise construction have transformed Yaletown into a sophisticated neighborhood with elegant shops, galleries and restaurants. By day, the area buzzes with fashionistas, filmmakers, photographers and high-tech gurus; by night, the tony pubs and clubs take over. Much of the action is along Mainland and Hamilton streets.
MUST SEE OR DO
Sights — For natural beauty in an urban setting, a horse-drawn carriage ride around Stanley Park; the Skyride up Grouse Mountain for a great view of the city; a drive along the Sea-to-Sky Highway from Howe Sound to Squamish and Whistler for a glimpse of rugged rain-forest terrain; the Vancouver Aquarium; a day trip to Fort Langley National Historic Site, 45 minutes east of Vancouver.
Museums — The Museum of Anthropology; the Vancouver Art Gallery; the Museum of Vancouver.
Memorable Meals — Chambar for a quintessential Vancouver dining experience; Bishop's or Hawksworth Restaurant for serious, intimate dining; cozy Nuba in Gastown for inexpensive eats.
Late Night — The lounge and dance floor of the Caprice Night Club for the younger crowd; The Diamond for Gastown cocktails; Vancouver TheatreSports League for easy laughs.
Walks — The seawall in Stanley Park; the family-friendly beaches at Spanish Banks; the waterside path around False Creek; the docks on Granville Island.
Especially for Kids — Trails at Lighthouse Park; hands-on exhibits at Telus World of Science; the labyrinth of vendors at the Kids Market; astronomy shows at the H.R. MacMillan Space Centre.
How would you like to explore Vancouver, B.C.?
For more information or to book your Trip-Of-A-Lifetime, contact Brad Martin at Anywhere Anytime Journeys.
[SOURCES: Anywhere Anytime Journeys' Destination Site & the Pocket Travel Guide App.]