Anywhere Anytime Journeys
Corporate Travel Management for Success
In today's global economy, the landscape of corporate travel is constantly changing. Dynamic firms rely on customized corporate travel management to provide value, incentivize talent and control costs. Our goal is to maximize your travel budget while minimizing the time spent on coordinating travel. Personal and professional service is of the utmost importance to us.
Anywhere Anytime Journeys' strength lies in our professional services and a team of skilled corporate travel specialists. Our business hours are Monday – Friday 8AM – 4PM CST Saturday & Sunday – By Appointment. When travel situations arise after hours, our 24-hour Travel Reservation & Management Service is on-hand to assist.
Travel Profile Management
As in most customer service oriented businesses, management of client data is of paramount importance. Not only for security, but also for ease and speed of service. Anywhere Anytime Journeys Profile Management enables you to submit your personal data just once. As your relationship with Anywhere Anytime Journeys continues we will automatically populate and refine your profile based on your travel experiences and preferences.
Fully Customizable Booking Experience
While many companies are moving to a touch-less service model, Anywhere Anytime Journeys has strengthened our hands-on approach. A fully customized booking procedure can be tailored to your company's needs.
Sample Reservation Procedure
Requests may be emailed or called into our corporate specialists.
Itinerary proposals are sent to via email for approval.
Once approved, final travel itineraries are sent via email.
Itineraries are also available 24-hours through our Pocket Travel Consultant mobile app.
Recognized Travel Value
Numerous studies have shown that a comprehensive corporate travel management program is the best way to control costs, track spending, and add value for travelers. We've partnered with the world's top names in the airline, auto rental, and hospitality industries to deliver savings and value, without sacrificing service.
Anywhere Anytime Journeys offers to book the following services:
Domestic & International Air
Hotel & Resorts
Car Rental
Group Travel
Business Meeting Planning
Incentive Programs
Cruises
Specialty Travel
Rail
Vacation / Leisure
Tours & Sightseeing
Anywhere Anytime Journeys Hotel & Car Program
Nationwide discounted corporate hotel rates with all major chains.
Negotiated discounted corporate car rental rates with all major companies.
Corporate Reporting
Our sophisticated travel tracking systems enable us to provide segmented reports on a weekly, monthly, quarterly, and annual basis. Whether you select one of our pre-programmed reporting options or need help creating customized reporting fields, Anywhere Anytime Journeys will empower you with knowledge on your company's spending and purchasing habits. Anywhere Anytime Journeys also becomes your travel archive for years to come as all purchasing data is securely stored for future reference.
For additional information on how Corporate Travel can help your company, please Click Here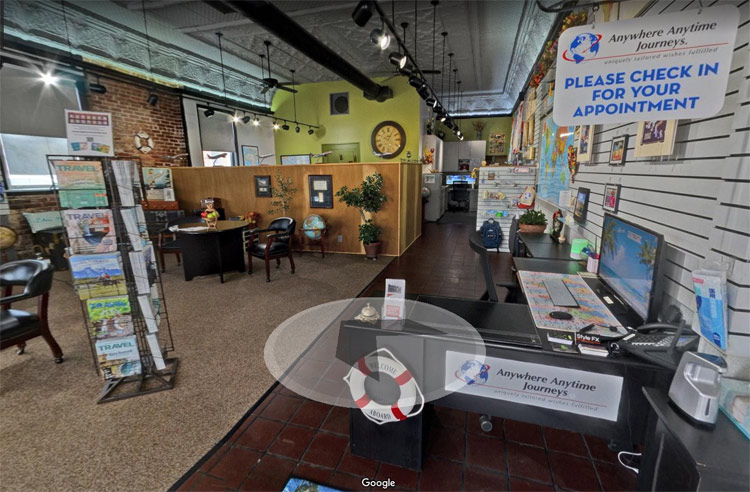 Take a Virtual Tour of our offices. Click Here