Client Testimonials
We had a great time. Anywhere Anytime Journeys made the trip the best!
Bill A.
— Rantoul, IL
Brad and Eric are great to work with. The trip was well planned, organized, and stress-free. They made it very easy for people that do not travel often.
Teresa R.
— Rantoul, IL
You couldn't find a better place to help with your travels. The people that help you act like you are family. Would encourage anyone to use their service!
David L.
— Potomac, IL
These 2 guys are the BEST!!
Brandy T.
— Potomac, IL
Brad is like having a concierge on 24-hour call. He gets things done so you can enjoy your travel.
Derek B.
— Buckley, IL
Brad is the best! If you want to travel Brad is the guy to contact. Very friendly and great customer service!!!
Michael J.
— Chenoa, IL
Thank you both. I wish I would have traveled through you both earlier. Takes some stress out of the process. Thank you!!!!
Heather M.
— Springfield, IL
Well, we are back and settling in to real life, which by the way, we both think is overrated! The alarm was a bit more than abrasive this morning :)!
I just wanted to thank you for taking care of everything for us. It was a wonderful trip! We relaxed, spent time together, drank, laid in the sun, walked the beach, had GREAT food, gambled a bit (Kurt, not me) and yes he won, slept in, no alarms. It was truly what we wanted!
We did do one excursion; snorkeling and a party boat type morning. We met great people. We enjoyed it a lot. We are glad we only chose one for the week; given that we didn't want a lot of schedules.
The resort was outstanding-gorgeous; the restaurants were wonderful, the service and atmosphere was fantastic. We did get to talk to several people who had been other places and Bavaro is their favorite. Great pick!
Travel went smoothly with everything. It was truly a wonderful trip; really all that we wanted it and hoped it would be for us to be away from the world.
Thank you - thank you so much for all you did; especially with changing of flights. Oh, and we did get the refund on that one day - all came through on my credit card already! It was weird (and wonderful) to just show up at the airport with our bags and not have to think about all the details.
You blessed us so much. We will be sharing this with others and recommending you for people who are traveling; made the trip so much easier in so many ways!
Keep doing what you're doing!!! Have a great week.
Cheryl & Kurt H.
— Mahomet, IL
WOW! Is all I can say about Brad and Eric from Anywhere Anytime Journeys! My wife and I recently traveled abroad and unfortunately fell ill during our trip. We weren't getting any better and felt that leaving our trip early for home was best. I called Brad and Eric, on the weekend mind you, and told them about our trip interruption. Within less than an hour, they had us booked on a direct flight home the following day so we could get home and start feeling better! I couldn't be more pleased with these guys and highly recommend them if you plan to travel.

When you first meet them they tell you how important customer service is to them and it's their #1 Priority and they certainly live up to their words!

Thank you so much for everything and we look forward to using your services in the future!
Kevin & Tracey P.
— Mahomet, IL
Brad is very thorough and very knowledgeable when planning our vacations. He is cheerful and accommodating. He and Eric are a pleasure to work with and always are on top of things for us. We do appreciate their efforts on our behalf.
Fran K.
— Champaign, IL
Thanks for the outstanding service for our cruise. Love the booklet (especially the superb packing list) as well as the champagne and surprise birthday cake for Mom (who had a fabulous time).
Bravo for the 5-Star Service!
Kendall H.
— Las Vegas, NV
Brad...We are home from our Truly Fantastic Dream Vacation! We want to Thank you SO VERY MUCH for all the details and Everything that you set up for us!
The Royal Hawaiian Hotel was Magnificent and the perfect fit for us-The Buffet Breakfasts Every day were Delicious!
All the side Trips you planned for us were Wonderful! The only cloudy day was the night of the Sunset/Dinner/Show cruise-which they switched to the next night for us, and it was Fantastic!
We SO appreciate all your efforts to make this Dream Vacation a reality! Thank you so much!!!
Elaine M.
— Mattoon, IL
Very friendly and timely service. I don't trust myself in making flight arrangements online but, your services put me at ease. Thank you so much.
Sandy B.
— Danville, IL
I have used travel agencies before but have never had an agency follow me thru my cruise up to the time I'm back home safe and sound. I highly recommend Anywhere Anytime Journeys for your next travel experience!! They are reasonably priced and fantastic to work with!! Thank you Bradford and Eric for a wonderful, stress-free vacation!
Julie B.
— St. Simons, GA
We were very pleased with the service we received from Brad and Eric. They go the extra mile to make sure we had a great trip. They worked with our schedule to meet with us and plan a vacation everyone in our group enjoyed. They did all the leg work so all we had to do was enjoy! Highly recommend them.
Cara F.
— Paxton, IL
Brad and Eric are wonderful to work with and sincerely treat every client as family. Custom travel or just a quick hotel stay Anywhere Anytime Journeys is the place to call or stop in and make your plans.
Diane M.
— Rantoul, IL
Daren and I ventured into the Canadian Rockies to visit Banff National Park. A bucket list vacation for sure! Banff had everything we'd want in a vacation; breathtaking views, amazing spas, golf and plenty of outdoor activities. Bria got to spend some quality time with both sets of grandparents and didn't miss us for one minute!
Thanks to Brad Martin at Anytime Anywhere Journeys for planning and booking our (now second!) trip for us! The expertise, free room upgrades, food and spa credits couldn't be beat!
Dolly H.
— Arcola, IL
Anywhere Anytime Journeys was fantastic to work with. We had planned and booked our trip then decided to change and stay close to the airport on our last night. They quickly took care of that change. Their travel app was wonderful and very informative. We'll definitely use you again!
Terri H.
— Oakland, IL
I have booked several vacations through Anywhere Anytime Journeys and have always been satisfied with the services I received. I would recommend them to any traveler!
Paula H.
— Fisher, IL
I booked a trip to Europe with Anywhere Anytime Journeys, and was very pleased with the services I received. Brad was very accommodating and treated me with the utmost respect. When I was in a car accident in Italy, Brad helped me with my travel insurance every step of the way. I highly recommend using this travel agent! P.S. - Get the insurance, just do it.
Kristian H.
— Fisher, IL
These guys are amazing! Brad is soooo great with customer service....traveling abroad he is your guy!
Toni V.
— Charleston, SC
I wanted to take a moment and recognize Anywhere Anytime Journeys in Rantoul, Illinois (https://www.anywhereanytimejourneys.com/). I started using them two years ago and use them for all of my IFSI-related business travel. A few weeks ago I looked at a particular flight online and the best price I could get on my own, even with status on AA, was over $550. Anywhere Anytime Journeys was able to find a better routing option for just over $400. For the cost of a $25 ticketing fee, they saved me $125 on this trip. Check out their website above or visit them on Facebook to learn more!
The benefits far outweigh the minimal cost - destination information in a useful app and the ability to access fares and routes I can't see personally make it worth it!
Brian B.
— Champaign, IL
You make it so easy for us, we don't have to do any thing but show up. Will be using them again in the future.
Carol & Bob N.
— Savoy, IL
[The Pocket Travel Conultant] app is so easy to use. They downloaded it and showed me how to use it, helped me play with it. It made check-in so easy. We are not electronic savvy, but this is so easy. We definitely recommend using this app.
We also recommend ANYWHERE ANYTIME JOURNEYS TO HANDLE YOUR VACATION!
Bob & Carol N.
— Savoy, IL
I will always treasure memories of my 60th birthday journey to Europe because of the superb service provided by Brad Martin with Anywhere Anytime Journeys. For the twenty-one amazing days that I spent in Europe all I had to do was show up because Brad took care of every detail for every day, every hour and every minute. Because of Brad's expertise and professionalism, every tour guide and chauffer were in first-class formation from London to Paris, cruising thru Germany on a riverboat, to Prague, and ending with a grand tour of Bologna and Rome. From the minute that I boarded the plane in Oklahoma City to Europe and returned home all my travel was managed well and in order. Thank you, Brad Martin. Without a doubt Anywhere Anytime Journeys is the travel agency that will exceed all of your expectations when in need of travel agent who understands the business. Brad, I owe you a great debt of gratitude for making my 60th Birthday trip to Europe a trip of a lifetime. Looking forward to working with you in the future! All the best.
Tara B.
— Oklahoma City, OK
Best customer service I have ever experienced with a travel agency. I would highly recommend using Brad and Eric for a trip!
Anonymous Client
— High School Reunion Group (Nashville 2017)
Had a fantastic time. Eric and Brad went above and beyond all of our expectations! Awesome job!!!
Anonymous Client
— High School Reunion Group (Nashville 2017)
Brad and Eric are an outstanding team of professionals who work diligently to make sure your trip is exactly what you want it to be!!! They thought of everything and were there to help any way they could. The best travel experience, ever!! Thanks, guys!!!
Anonymous Client
— High School Reunion Group (Nashville 2017)
From A to Z they have you covered for every kind of adventure. The services they provided were outstanding! From A to Z they have you covered for every kind of adventure. The services they provided were outstanding!
Anonymous Client
— High School Reunion Group (Nashville 2017)
Brad Martin did an EXCELLENT JOB with my travel vacation having NO Problems and making my girlfriend and I VERY VERY HAPPY!!!! Keep up the GREAT GREAT WORK!
Marquez W.
— Champaign, IL
I haven't taken time to tell you, but the trip to New York in December for my mother-in-laws 75th birthday FAR exceeded my expectations. The stay in Times Square was perfect, Big Bus was an amazing company with wonderful staff and were very compassionate when we needed to extend our 48 hour on the bus to accommodate [one of our party] who ended up with the flu on what was supposed to be day-2 of the tour. I was amazed and impressed with NYC as a whole... it was a wonderful time! Thank you so much for your help with all of that!
Wendy F.
— Fisher, IL
It [Murder Mystery Dinner Theatre] was a lot of fun! It was a married couple who did the acting and there was crowd participation, which was fun too. Wine tasting and bottles/glasses of wine, beer, water, etc can be purchased. I'm not a wine lover, but did enjoy the three free samples and ended up buying a bottle. Also bought some local cheese. Dinner was good. Tossed salad, fruit salad, mashed potatoes, green beans, chicken pasta and ham.
The bus ride was nice. Nice charter bus and Brad Martin was a great host serving us plenty of snacks.
All in all I would rate it a 10/10. Of course a lot of that had to do with the company I was in. I laughed so hard my sides hurt!
Carleen L.
— Gifford, IL
Kudos to Brad Martin and Eric Barnes for planning a wonderful trip to New York City this weekend!! From dinner to plays, this trip was well planned out and couldn't have been better. If you ever need travel plans made, Anywhere Anytime Journeys is the way to go. Thanks for a great weekend!
Linda C.
— Champaign, IL
First rate service at very reasonable prices! Extremely friendly and knowledgeable tour guides!
Terry B.
— St. Joseph, IL
Thank you, thank you, thank you! Brad and Eric did a wonderful job planning a great trip to Nashville, TN. Their attention to detail in planning this bus trip was superior to other past bus trips. From the snacks & drinks to the quick and efficient hotel check-in & porter service were just a few of [the] things that they thoughtfully had taken care of. They were very professional and did an outstanding job accommodating variations of the travel itinerary. If you want worry-free travel, contact them!
Lois M. & Mary S.
— Rantoul, IL
My husband and I were planning to go on a dream vacation and started doing all our own research. I had always taken care of our extensive business travels so thought this would be a "piece of cake"! Well...it started getting more complicated than I could have imagined so a friend recommended I call Brad of Anytime Anywhere Journeys. Thank goodness I followed that advice! Brad put together the most amazing Southern Caribbean Cruise package including perfect flight connections, hotel reservations, excursions, etc! His attention to detail and personalization of these details was first class! Right down to listing what to bring, wear, etc. One thing Brad highly recommended was purchasing travel insurance and I thought why...nothing is going to stand in our way!! Wow...am I glad I listened to him. Just before our departure my husband was hospitalized and we had to cancel everything. We were reimbursed everything thanks to Brad and he "held our hands" through the entire process! Folks...don't do it by yourself...call Brad, Anywhere Anytime Journeys...he is truly the best "Travel Designer" and you won't be sorry!
Anita L.
— Virginia Beach, VA
Brad has given my tour company nothing but the best support for group travel. His communication is quick and complete, he has an eye for the customer, and Brad always knows his product. The Anywhere Anytime Journeys support we receive is essential for us to offer an excellent travel experience!
Dave H.
— Authentic Mexico Travel
I want to thank you for all the help you gave to me and my wife when planning our cruise. We were really impressed with your expertise and the way you were able to get everything confirmed for us in such a timely manner.
Your documents are more than a 'step above the rest'! Not only did it include a pre-departure check list, a complete itinerary and luggage tags, it was bound in a booklet for us to keep as a souvenir of our trip too.
Thank you also for the follow-up after our return. You have truly earned our respect and loyalty, we know exactly who to call when we want to plan our next trip.
Ronald W.
— Bartlett, IL
Brad it has been a complete pleasure to work with you these past 5 years. As a BDM for The ID Travel Group, I have seen you go from working for another agency to owing your own. With each phase of your growth I have seen how you react to your clients' wants and wishes, but more importantly I have seen how you have fulfilled their needs. Your clients' vacations become a true experience for them leaving them with great fond memories to carry with them for a lifetime. You are a true Travel Specialist, you are diverse and your knowledge of your product is astounding. Keep up the good work.
Carol B.
— ID Travel Group
Brad is my go to guy for all my personal travel needs. He understands my expectations, and my budget. I know he is always sending me on the best vacation, and most importantly, will be there for me if an emergency should arise.
Laura C.
— Andretti Sports Marketing
Brad is truly one of the best agents I know. He is there to help you 24/7, has incredible amounts of knowledge, and truly cares that your travel experience is special. I would highly recommend his travel agency services!!!
Christy B.
— Sports and Entertainment Travel
Many thanks!! We had a perfect dream honeymoon that words can't describe! Our suite was X8 and it was amazing. We were overwhelmed with joy!! We fell in love with Ladera and St. lucia and want to return next year for our anniversary!! You were amazing. I don't know how you did it but it was heaven!!
Thank you again!!
Rick M.
— New York, NY
Brad is the best in the industry. He is always there for you every step along the way. Worth the value.
Kyle M.
— Sports and Entertainment Travel
Brad is a true professional and an absolute joy to work with. I had the pleasure of traveling with him on an educational visit to South Africa last year, where he completely immersed himself into the country. Now, more than a year later, he continues to stay on top of new trends, properties and experiences in South Africa to share with his clients. His passion for world travel and culture remains an inspiration.
Kristy A.
— South African Tourism
We made it back, and I have to say Thank YOU!! What a wonderful trip. The flights worked out perfect, no issues at all. The Four Seasons went above and beyond expectations. The Villa they moved us into was amazing… we had more space than we could've ever used. 5 people could've easily lived in that villa for the week. We had a full kitchen, which they let us stock with bulk food at discounted prices (for example, beers were 24 for $40… or I could go to the beach and pay $6 for one!). We were able to have breakfast every day in our villa, and have snacks during the day, saving us a ton of money. We had over 1,000 sq ft of screened-in porch, and an outdoor deck with our own pool. We were right on the golf course, looking down the 18th fairway to the ocean. Just a beautiful spot. We even had our own golf cart to cruise around the resort, it only took us about 5 min to get to the beach. The service was outstanding as well, exactly what you'd expect from the Four Seasons. They don't ever tell you they can't do something, they figure out how to get it done. My wife was craving chocolate ice cream after dinner one night… she asked some random lady standing in the lobby if she knew where she could get some. Instead of ignoring it, the lady told her to sit down and she would handle it… 5 min later, my wife had a bowl of chocolate ice cream. Just amazing service all week!
Anyways, thanks again for planning our vacation. We had a wonderful time and I thank you. Nevis is a beautiful island and I'd highly recommend it to any of your clients.
Brent S.
— Charlotte, NC
Your care and service for your client, your sincerity, your win/win philosophy, your incredible attitude, the excitement you get helping a client to get the best experience. I could name a lot more positive points of your business and you but I wanted to give you what truly impresses me!
A customer of yours who trusts you because of your values and beliefs!
Keith C.
— Champaign, IL
I have done business with Anywhere Anytime Journeys for many years for a variety of trips and events (sea cruises and river cruises, tennis opens Australia and Wimbledon). It is not so much the great seats at the tennis matches and Las Vegas shows, it is the excellent travel arrangements that go along with these adventures. Convenient schedules and cheap fares on airlines, outstanding hotels, international train connections, and tour itineraries are just a few of the reasons that our travels are relaxing and as worry free as possible. Brad Martin's attention to detail and personal touch for all the accommodations add to the enjoyment of the excursions.
Jim F.
— Champaign, IL
We used Brad and Anywhere Anytime Journeys for a family trip to Jamaica. I would recommend him 100%. We absolutely had a fabulous time and he taught me things about traveling that I never knew. He was there for us 24/7 if we needed him and that was very comforting.
Paula H.
— Fisher, IL
Just returned from a two week vacation in England that Brad Martin and Anytime Anywhere Journeys put together for me. This was a bucket list trip for me that revolved around The 2015 Rugby World Cup. In short it was a spectacular trip. Everything from the hotels, transfers, train trips, flights, car rentals, gifts and birthday wishes left at hotels and matches exceeded even my high expectations! I WILL be using Anywhere Anytime Journeys for all my personal and business travels.
Bruce S.
— Crestline, CA
Anywhere Anytime Journeys' director, Brad Martin, runs a dependable, knowledgeable, fair priced travel service. He delivers what he promises, often with small, individualized tweaks personalized for each customer or group client. Once affiliated with his work, one would not engage another firm. Absolutely impeccable ethics.
Janet M.
— Urbana, IL
Everything went well with my trip and enjoyed my visit to the Embassy lounge at O'Hare. Thanks for suggesting it.
June C.
— St. Joseph, IL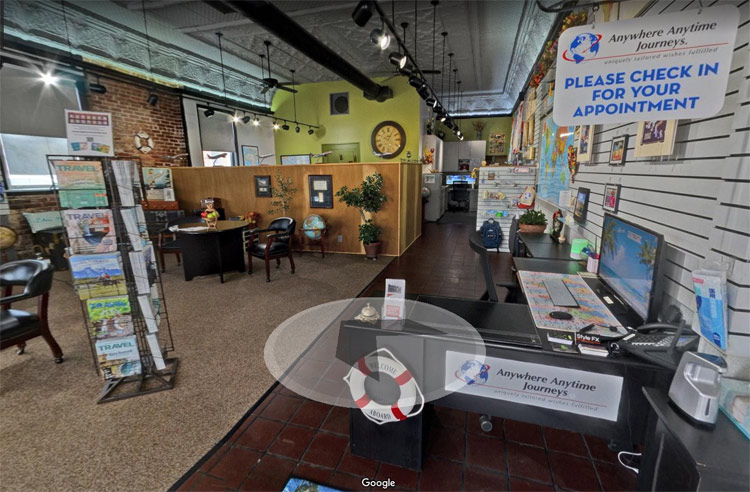 Take a Virtual Tour of our offices. Click Here